FIVE WAYS TO SHOW YOUR CHILD'S CAREGIVERS YOU APPRECIATE THEM: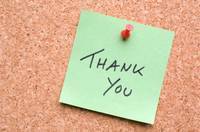 The holiday season is an excellent opportunity to show your child's caregivers you appreciate them. These ideas are just a few possible ways you can express your appreciation. You don't need to spend a lot of (or any) money. Be creative!

1. Tell them.

This suggestion may seem obvious, but verbally acknowledging the hard work of your child's caregivers is important and won't be forgotten. If you prefer, you can also write them a note or a card expressing your thoughts.

2. Have your child draw a picture/make something for his teachers.

Involve your child by helping him make something special for his caregivers. This activity will teach him a valuable lesson about thanking others.

3. Bring in some cookies or some other treat for the staff at the pre-school/daycare center to enjoy.

Again, you can involve your child by allowing her to help you bake something special.

4. Purchase a small gift for each person who cares for your child.

Child care workers are not only under appreciated, but underpaid. If your budget allows, include your child's caregivers on your holiday shopping list. If you're not sure what to get them, a giftcard or monetary gift would be greatly appreciated.

5. Go out of your way to keep your child's caregivers aware of your holiday plans.

By keeping your child's caregivers informed of your plans, you will enable them to make their own plans and lower the stress that often comes with the holiday season. For example, they may be able to get extra days off if there will be several kids absent on one day. Also, if they know when children will be absent, they will be able to plan holiday parties and special events when all the children will be present.

*Make sure you show your appreciation not only to your child's primary teacher, but also to any teacher's assistants or aids who work with your child on a regular basis.