MAINTAINING CONFIDENTIALITY: FOUR TIPS TO HELP YOU HANDLE SENSITIVE INFORMATION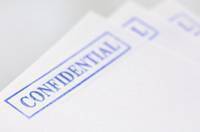 When you work in a child care facility, you find out a lot of information about the children and their families. You may hear about divorces, affairs, illnesses, money problems, drug addictions, abuse, as well as other pieces of personal and sensitive information. All of this information needs to be handled very carefully.

1. Keep yourself informed of all laws and regulations regarding the handling of personal information.

Make sure you follow the guidelines set-up by the federal government, state government, the authority that licenses your program, and your employer. These regulations cover what information must be shared (such as certain medical conditions or allergies) and what should be kept confidential.


2. Don't share information with people who don't need it.

Information should only be given to authorized people who need it to make decisions regarding the care of a specific child. Some information should be shared with all caregivers who work at the facility the child attends, but most of it should only be shared with the people directly working with the child on a day-to-day basis.


3. Keep written information in a safe place.

Personal information should not be left laying around for other parents or staff members to see. Keep information about the children in a safe place out of the way of prying eyes. Some information (such as social security numbers) should be in a locked file cabinet or office.


4. Don't Gossip.

Share the information in a concise and informative manner with the people who need to be informed. For example, say "Billy's mom wanted me to let you know she is getting a divorce and she would like it if we could give him some extra attention and patience as this will be a difficult time for his family." It is unprofessional and inappropriate to gossip about a child or his family. Don't say, "Did you hear Billy's mom is getting a divorce? What do you think happened?"